Gallery
Popular Jamaican dishes include curry goat, fried dumplings, ackee and saltfish (cod) – the national dish of Jamaica – fried plantain, "jerk", steamed cabbage and "rice and peas" (pigeon peas or kidney beans). Jamaican cuisine has been adapted by African, Indian, British, French, Spanish, Chinese influences.
Try our freshly made salad

Fresh Hard Dough Bread and Bulla

Rice and Peas

Fresh fish

Gizzarda


Coconut Drops

Tofu

Brown Stew Chicken

Coconut Cake

Akee


Oxtails

Curry Goat
Caribbean cuisine is a fusion of African, Amerindian, European,East Indian, Arab and Chinese cuisine. These traditions were brought from many different countries when they came to the Caribbean.In addition, the population has created styles that are unique to the region.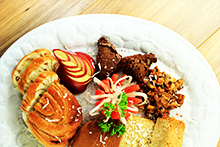 We have a wide variety of your favorite desert classics!
Traditional dishes are so important to regional culture that, for example, the local version of Caribbean goat stew has been chosen as the official national dish of Montserrat and is also one of the signature dishes of St. Kitts and Nevis. Another popular dish in the Anglophone Caribbean is called "Cook-up", or Pelau. Ackee and saltfish is another popular dish that is unique to Jamaica..

• Meet the Founder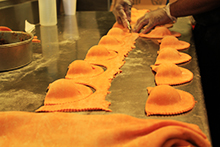 Dessert is typically the sweet course that concludes a meal in the culture of many countries, including the western world. The course usually consists of sweet foods, but may include other items.