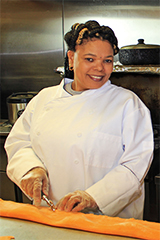 Pete & Hyacinth Powell are the owners of Pete's Caribbean Bakery & Restaurant, Located in McDonough Georgia.Pete has over 40 Years in the baking industry going way back from a youth in Jamaica then to Ft. Lauderdale, Florida and now in McDonough, Georgia where they opened the first Caribbean Bakery in Henry County serving the area for the last 10 years.
Pete's Caribbean Bakery & Restaurant offer a vast variety of Authentic Cuisine and Scrumptious mouth watering delicious Pastries: Cheese cake, Rum Cake, Bulla, Rock Bun, Gizzarda, Coconut drops, Toto, Sugar Bun, Spice bun, Potato Pudding, Bread Pudding, Plantain Tart, Guava tart, Coco Bread, Hardo Bread, Ackee Loaf, Meat Loaf, calloloo Loaf and many more Island specialties. Come Enjoy the friendly atmosphere and get re-acquainted with the great Island food.
Mission Statement
To provide our:
Patrons with authentic, tasty Jamaican patties and relevant Caribbean cuisine in convenient settings and sizes
Customers with outstanding customer service and reliable predictability at every touch-point

within a friendly atmosphere.

Employees with an environment that is rewarding, fun and aspirational

Communities in which we operate with local orginizations of which we can be proud of, by feeding the homeless and our soldiers each year.
Our Values
As a mom and pop establishment our customers are the core of our success

Integrity, friendliness, great ambiance, and fun are hallmarks to our approach to our business.

Excellent customer service is paramount to our success.