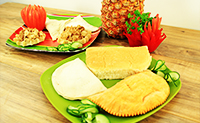 Home made Pastry made fresh daily
Want some local foods from the islands? Do you yearn for some of those goodies of yesterday? Come enjoy some of our many products and we will bring back memories.
Caribbean cuisine is healthy because it is made with many unprocessed foods, uses smaller portions of meats, has a high content of fish, beans, and vegetables, and, most of all, because it is an eclectic mix of the best that African, European, Indian, and Chinese cuisines have to offer. Moreover, Caribbean islanders have always been aware of the relationship between food and health. Perhaps Caribbean cuisine is healthy due to luck or happenstance. How else can anyone explain why some of the most highly rated medicinal herbs, etc, ginger, garlic, all spice and hot peppers just happen to be the basic seasonings used in Caribbean cuisine.